Product features
Introducing ViewSonic M1-portable projector, launched in 2018. A very standardized, gun metal finish, classy product to meet your competitive schedule. It possesses dual Harman Kardon speakers which drives you to experience premium quality sound, with wider display and WVGA resolution. It beats 6 hours of long life battery, so users can play several songs and watch movies uninterruptedly.
It's highly flexible connectivity supports almost all media player, compatible with Mac and mobile phone devices, also have HDMI and USB ports. It has integrated micro SD card slot. At the backside you can access to physical control buttons. It has 360 degree projection and smart stand which are very useful and the buyers are not asked to buy it separately.
Branded speakers for boss sound
It possesses built-in dual Harman kardon speakers which fills almost 50% of the room and allows you to experience great variety of sound at any corner. It  has 25 dB noise level providing high quality and clarified sound output. It also has 3.5 mm audio port.
Multiple connectivity options
It is compatible with macs, tablets and mobile phones. It holds up media players and pieces. Possesses HDMI and USB input possibilities. It also has integrated micro SD card slot. Internal storage of 16GB.
No compromise in display
It has short throw lens so can easily project up to 100 inches. Holds wireless display. Gives a 100" projection image. Has WVGA resolution-854 x 480 p ,250cm brightness, 120000:1 contrast ratio. Has auto keystone feature to correct misaligned images on its own from any side or angle full . No chance of getting distorted, bad quality image.
Massive battery life
It includes 6 hours built-in battery and upto 30,000 hours of operational life. It can be quickly rechargeable as it contains USB type- C.  Without breakage, one can use the device in long run. Thus helpful in watching movies continuously.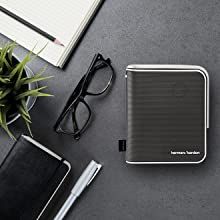 Compact and lightweight
It weighs  689.46 g. It's lightweight design makes it best to be carried out for business , personal and entertainment purposes. Good for both indoor and outdoor activities . It's metal- plastic design and structure is small enough to fit in your palm. Thus, boosting your last-minute presentations.
Flexible stand and full range projection
The smart and flexible stand allows rotation in all directions and angles. Its 360 degree projections helps to view seamlessly at different locations. The stand also act as lens cover and turns off the projector when not in use automatically.