Product features
The Stanmore Bluetooth speaker provides you with the ultimate audio experience. The device has been structured to deliver precise audio throughout high frequency range. The gold finish on the analogue knobs and the front fret gives it a vintage look. Besides, it has two inputs which include a 3.5mm jack and RCA input which deliver premium Marshall music. It features wireless Bluetooth(v4.0) aptX connectivity as well as analog interaction knobs. Power saver helps in reducing the stanmore environmental impact when not in active use.
Wrapped in leather, Marshall Stanmore Speaker showcases a gold trimmed grille and a gold-painted plastic logo on the front. The analog knob allows you to control the music, change the bass and the treble setting as well. Despite having a compact design, it delivers rich bass and gives you a feel of the classic rock 'n' roll style. So grab this bombshell for your party.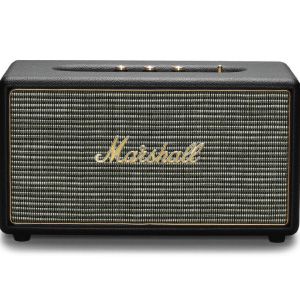 Larger than Life Sound
It is a compact speaker with large and dynamic sound. It is built with advanced features which deliver precise sound throughout the frequency range. The sound is rich in bass and accurate all over the spectrum. So, Stanmore wireless speaker delivers a punch without missing out on the details.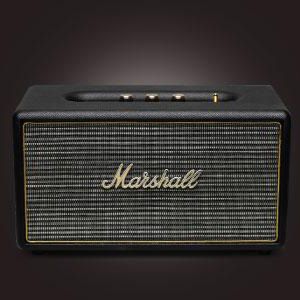 Classic Design
The design has been inspired from the golden days of rock 'n' roll. It flaunts a gold logo, gold piping, vinyl casing and vintage inspired grille cloth. The metallic finish adds to the classy look of the product.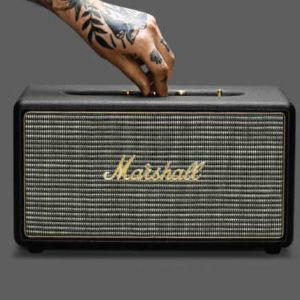 Wide Frequency Range
The device offers a huge spectrum of frequencies from 50 to 20,000Hz. The crossover frequency range is around 2500 Hz.. This makes the audio loud and the bass strong. Further, it delivers clean and precise sound even at high frequencies.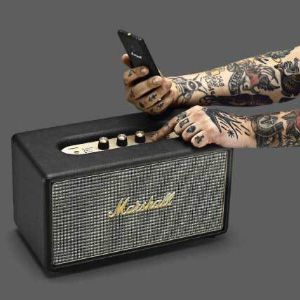 Bluetooth Connectivity
Go wireless by connecting this marshall portable speaker with any Bluetooth 4.0 enabled device. You can connect it directly with your smartphone, tablets or computers via Bluetooth. Enjoy clean and precise music without any restrictions.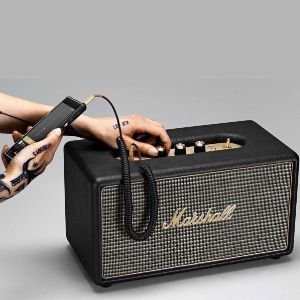 3.5mm Jack & RCA input
Marshall Stanmore also offers you 3.5mm jack for wired connectivity. The coiled double ended stereo cable is inspired from the rock 'n' roll days. Cable that comes with two 3.5mm plugs at the terminals is a modern take on the classic telephone cord guitar cable.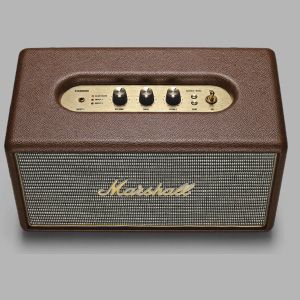 Stanmore Controls
Now customize your sound with the help of the analog interaction knobs. The brass plate at the top features control knobs for bass, treble and volume. This allows you to fine-tune to the exact sound you wish to hear.