Product features
This stout-hearted Kilburn II Portable Bluetooth Speaker weighs only 2.5 kg and is the loudest one in its class. It produces a clear midrange, deep bass, and extended highs that are unrivaled for a speaker this size, and its multi-directional sound will immerse you in your music, indoors or out. Unravel the majestic innovation to relive the sense of compassion, rejuvenation, and clarity of the music. Engineered with modern renditions and audio expertise, bring theatre within the comforts of your room with enveloping and realistic sound. Mastered with collective features and function in portable Bluetooth speaker


The vintage design of the Marshall II Portable Bluetooth Speaker ensures that it's an addition to your style statement. The 20+ hours of battery backup ensures that your parties last long. To add to the vintage feel, you get control knobs for bass, volume, and treble. The exclusively designed in-built subwoofer of these speakers by Marshall speakers multiplies the dynamic sound range with zero background and saturation-balanced audio quality. The Class-D Amplifier boosts the acoustics with extended impact to provide clarity, immersive audio, and spacious facet of sound.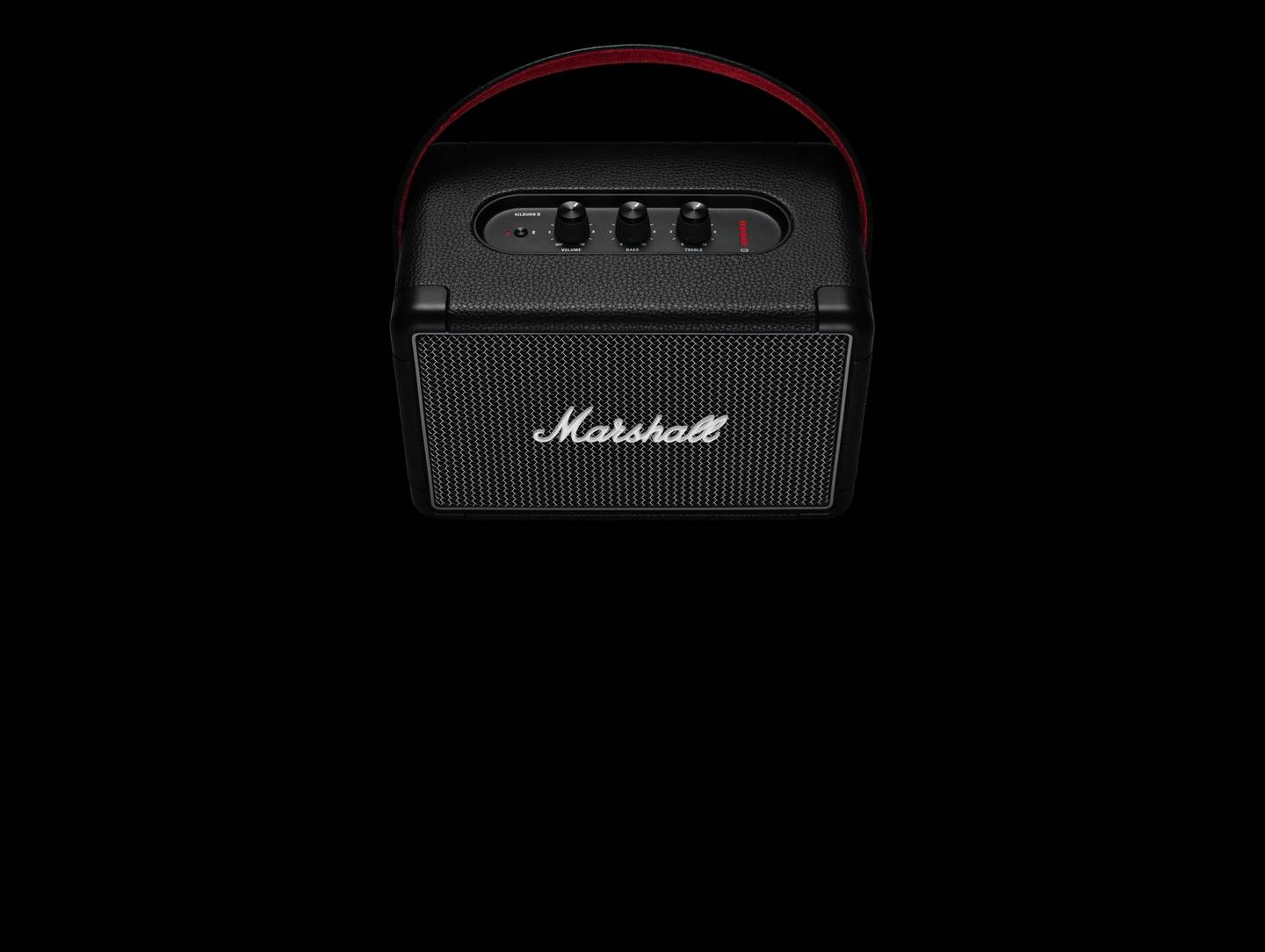 Powerful Sound
Kilburn portable Bluetooth speaker features well-balanced audio that boasts powerful sound. The class D amplifier lets you feel the deep rich bass and experience powerful sound. It is known to be a critical feature to give your party that all-important boost. The vintage design technology has revised the soundbar into an art piece to maximize your living space with elegance. This stout-hearted hero offers a larger-than-life multi-directional sound that will immerse you in your music, indoors or out. Powered by 36 Watts, its pronounced and articulate sound pushes the boundaries for a portable speaker of this size.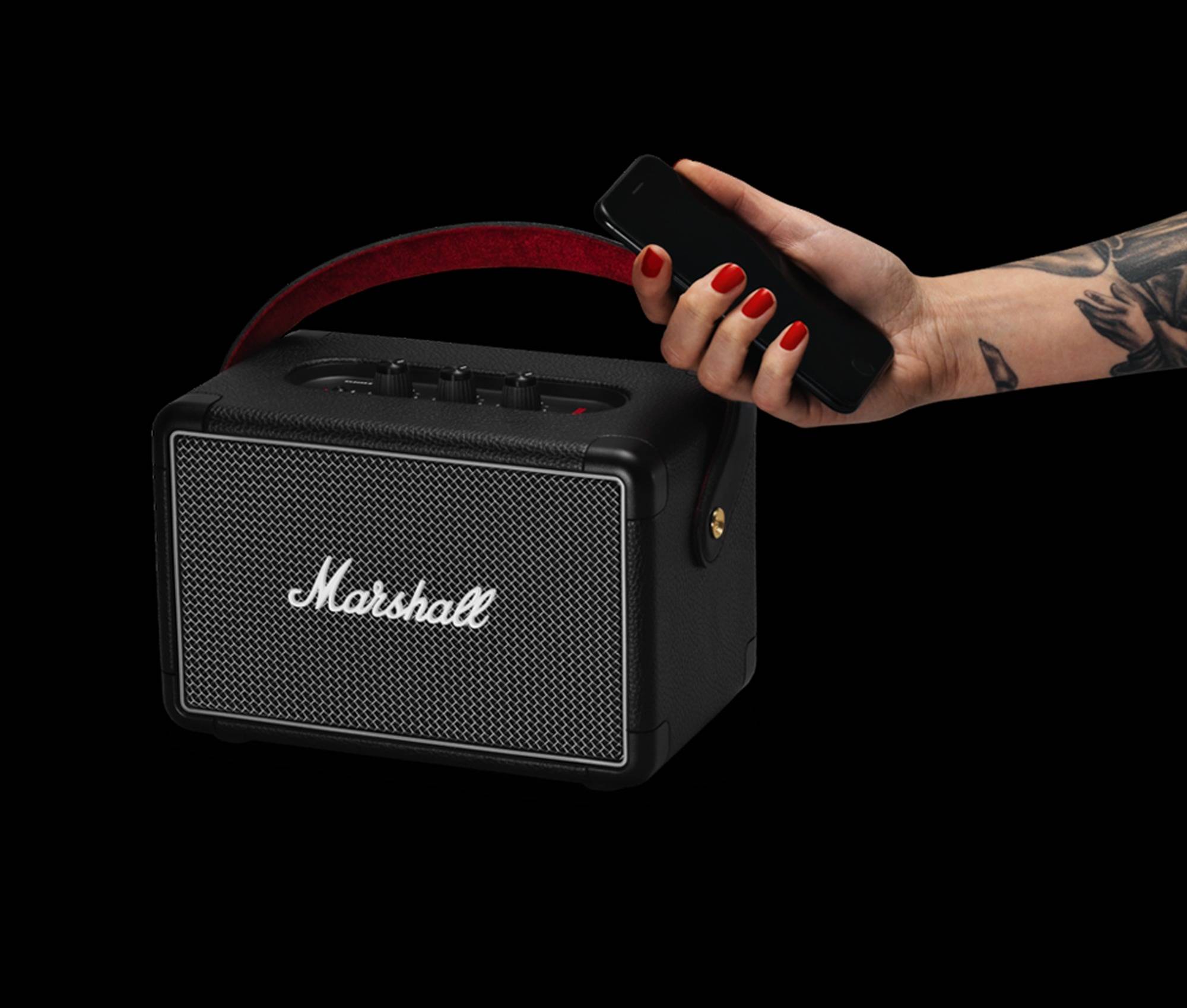 Classic Vintage Design
The Marshall portable Bluetooth speaker first look reflects a lot of sophistication and classic design to add to your style statement. With its iconic silver script logo, beautiful silver piping, vinyl casing, and vintage-inspired fret you can ease into the. This beast of a speaker weighs only 2.5 kg and is the loudest speaker in its class. Vplak is happy to bring to you the Marshall Kilburn2; a portable Bluetooth speaker with a clear midrange, deep bass, and extended highs that are unrivaled for a speaker its size. The Kilburn 2's multi-directional sound will immerse you in your music, indoors or outdoors.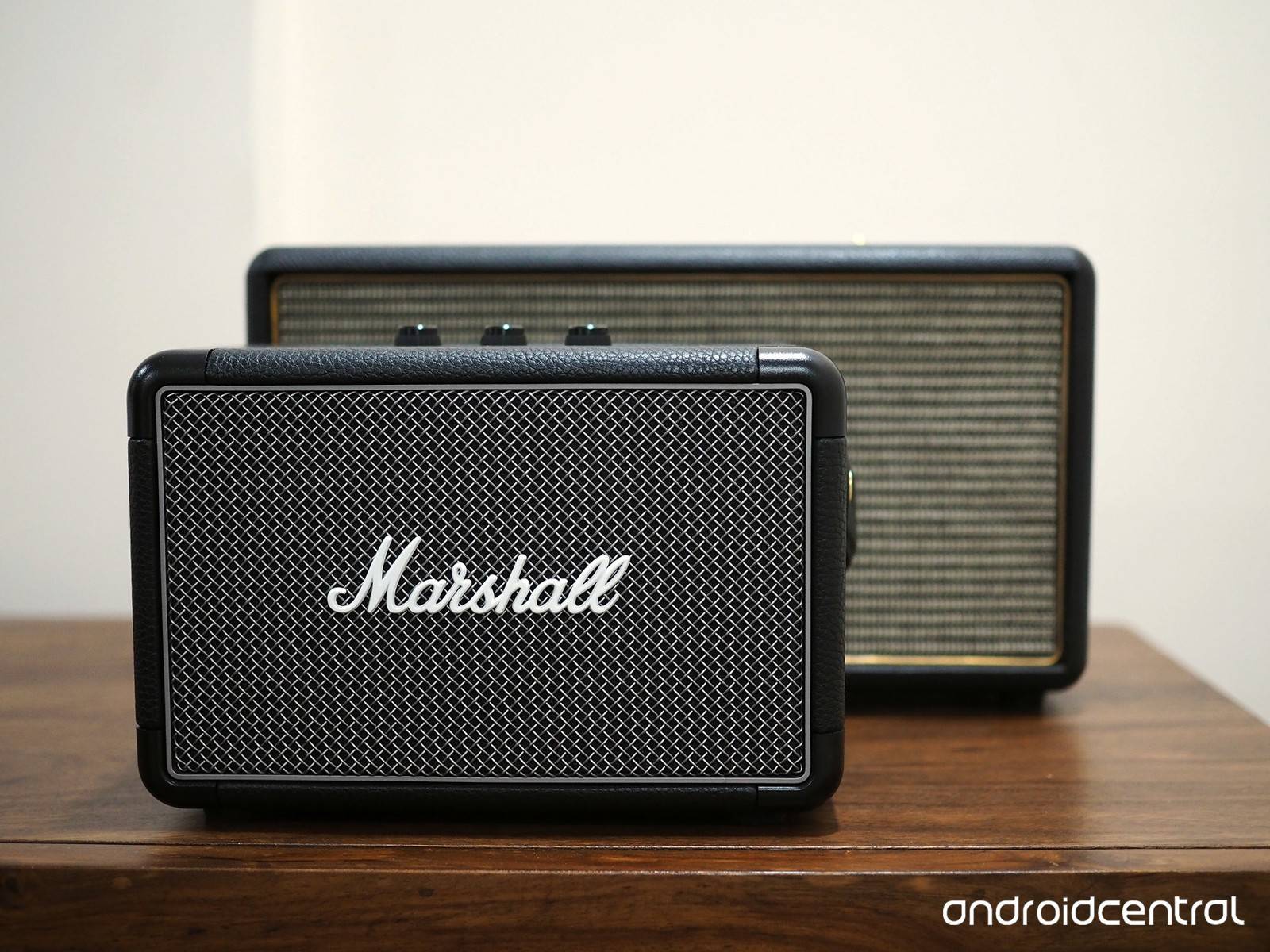 20 + Hours Long Battery
Keep the festive vibes alive wherever you go with a 20+ long hour battery life on a single charge of just 2.5 hrs. This will in turn help you to supply high-quality music to even the longest of events without any hitch. II wireless speaker weighs just 2.5 kg and offers 20+ hours of portable playtime on a single charge. Its compact size and guitar-inspired carrying strap make it perfect to take with you. With the all-new Kilburn, you can track the speaker's battery life with the visual battery indicator located on the top panel of the speaker.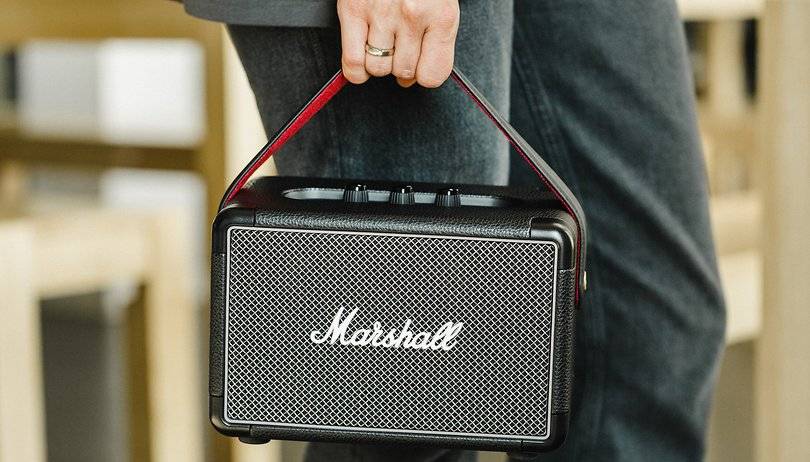 Lightweight & Portable
Weighing in at only 2.5kgs, the Marshall speaker can be taken anywhere you go. You can also switch up a normal gathering into a musical one by simply plugging any of your devices and playing everybody's favorite songs. The catalyst bass extended music coverage adds to the audio output and amplifies the music episode. Real-time connectivity is the salient feature of Marshall-II portable speaker that facilitates you to add on Spotify, Apple Music, and Airplay with ease.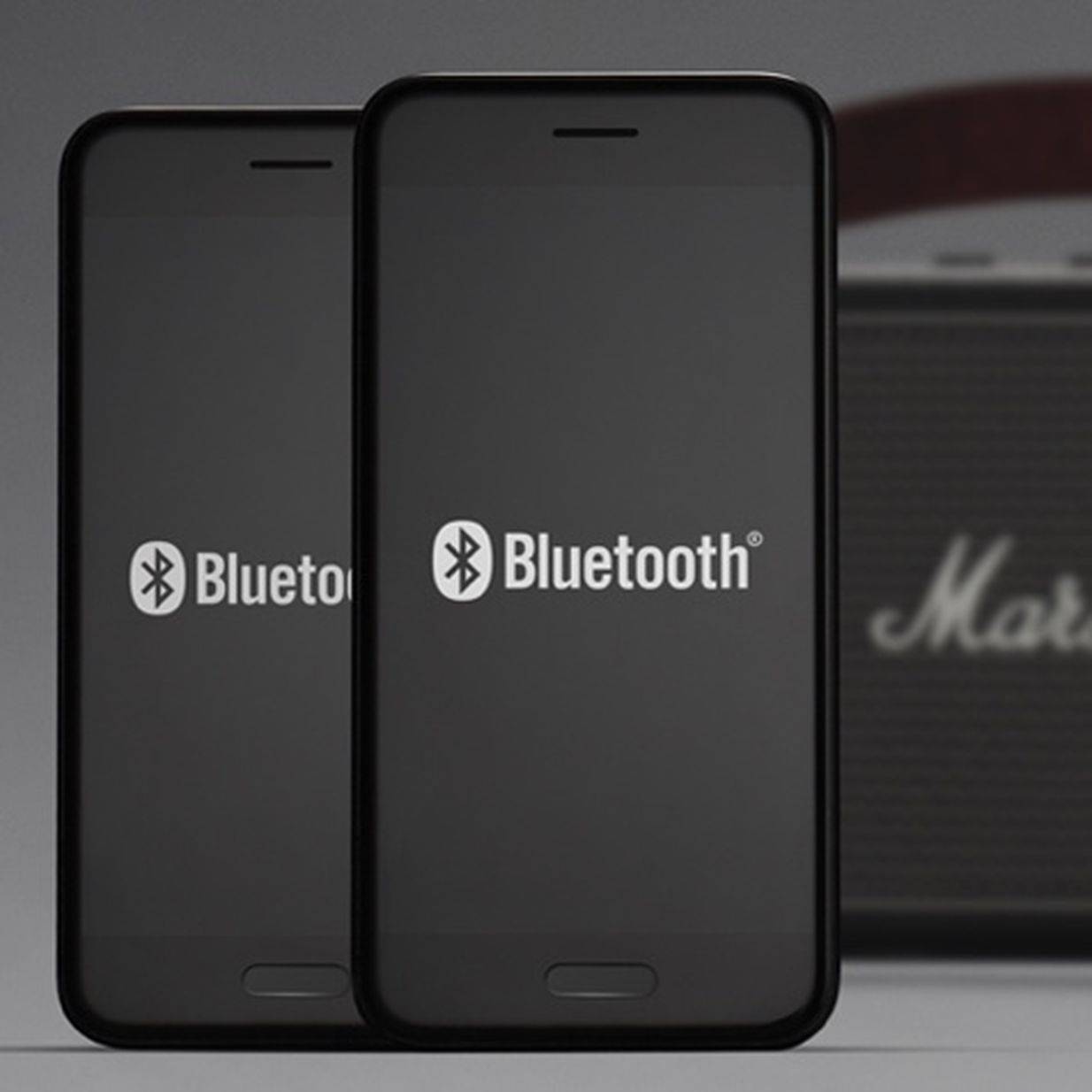 Bluetooth & AUX Connectivity
Now you can connect to the Kilburn model of Marshall speaker via Bluetooth. Here you can use your Bluetooth-enabled smartphone, tablet, or PC to stream music to your speaker with no wires attached. A coiled double-ended stereo cable with two 3.5mm plugs. Marshall Kilburn II is a masterpiece in itself. Empower every detail with the latest audio technology and maximize your movies, music albums, and karaoke nights swiftly. Expose the 20 hours extension of the soundbar to outlast your party and expand your musical journey.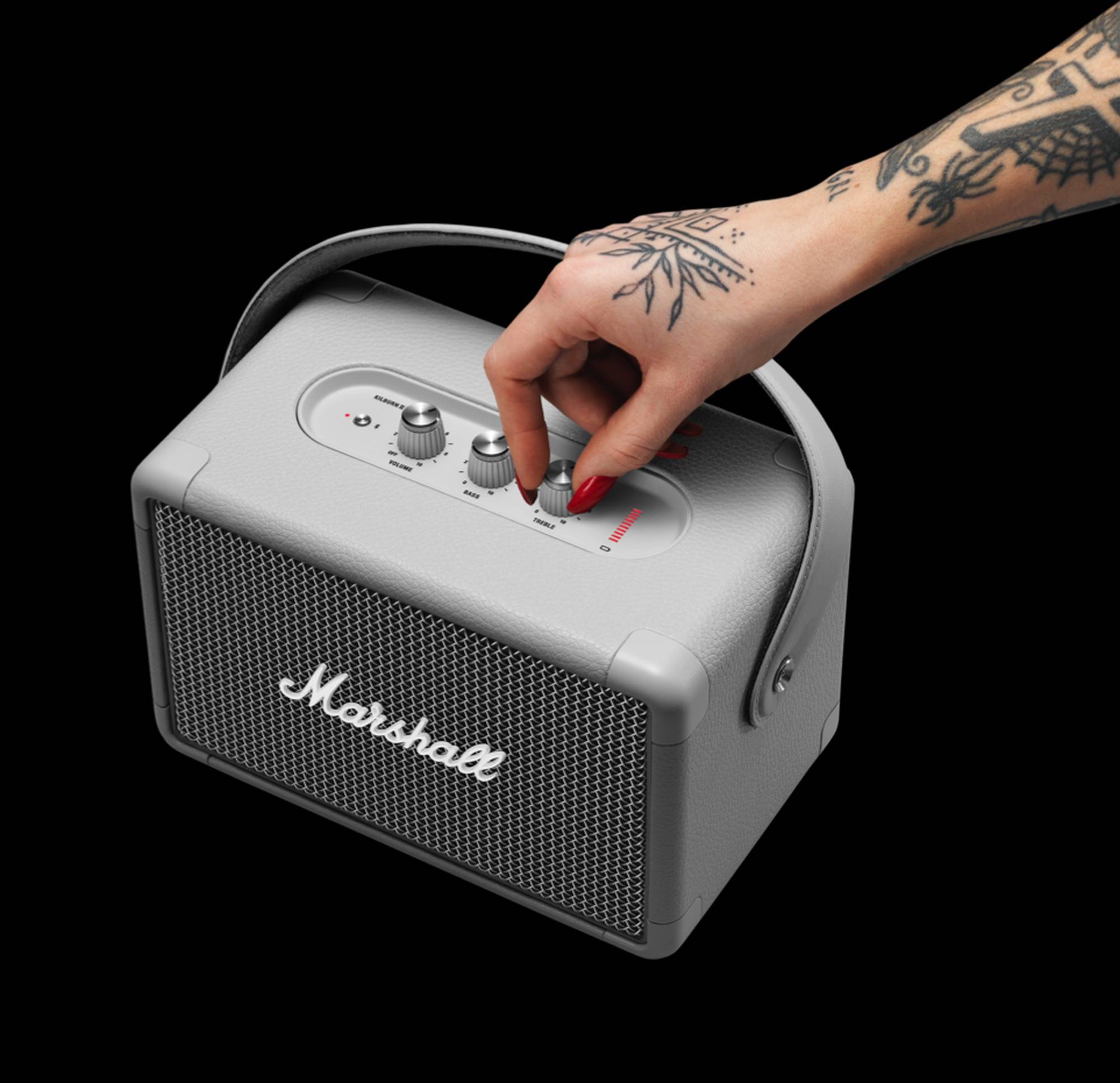 KilBurn ll Controls
Now you can change tracks and adjust the volume and bass by simply operating the speakers without the need to use your smartphone. Some of the controls provided are: Bass control knob, On/Off toggle switch, Bluetooth Pair button, Source/Wake button, Treble control knob, and Volume control knobf It also supports wifi and HDMI compatibility to connect the external drivers and turn your TVs into in-home cinema with astounding sound impact. The compact and portability feature makes it easy to travel and take your music wherever you go.