Product features
Featuring YSP-5600 7.1.2 Channel Soundbar with MusicCast, Bluetooth, WiFi, AirPlay, Dolby Atmos, HDMI 4. Features a 3D sound reproduction equivalent to 7.1.2 channels realized using Yamaha's unique Digital Sound Projector technology to let you enjoy movies and music with thrilling 3D surround sound. MusicCast functionality lets you enjoy a variety of audio content throughout your home using an exclusive app.
Comes this surround sound from a 44-speaker array in a total 46-speaker configuration,along with Six height channel speakers on each side provide 3D surround sound reproduction. Yamaha 5600 features wall mounting,along with a total of ten programmes in three categories for CINEMA DSP 3D are supported.
Real 3D Surround Sound
Inside the front grille are 44 precisely calculated and positioned speakers which created a 7 channel sound beam along with this Yamaha YSP 5600 uses the surround channel sound beam for surround back, and the surround channel is phantom merged to support the equivalent of up to 7.1.2 channel Dolby Atmos or DTS:X reproduction.
Dolby Atmos and DTS:X
This Yamaha YSP 5600 supports both Dolby Atmos and DTS:X, the latest surround sound formats.Dolby Atmos is supported by the unit when shipped, while DTS:X is planned to be supported with a firmware update.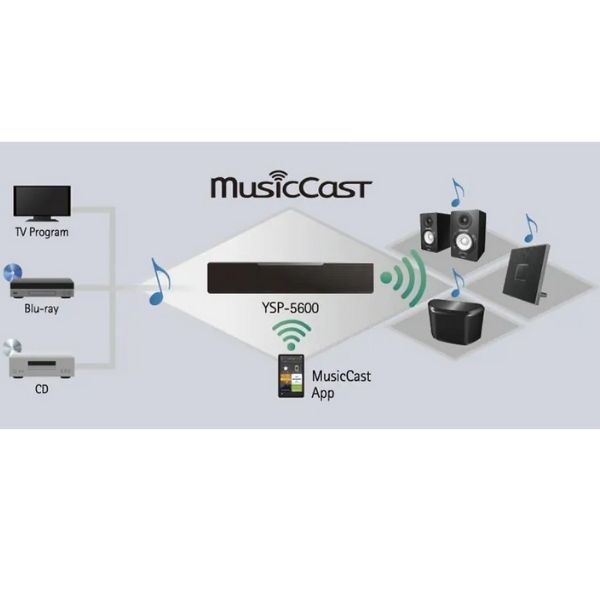 MusicCast
With musiccast now stream digital music content from your smartphone, PC or NAS to other MusicCast devices in your home, you can also share the music from external devices such as a TV or Blu-ray player connected to the YSP-5600.
HDMI Terminal and 4K Ultra HD Support
Yamaha YSP5600 Soundbar supports the latest HDMI standards with the transmission of 4K video at 60 frames per second pass through, you can fully enjoy the HD video quality of 4K without degradation.
Wireless Streaming With Bluetooth 
The Yamaha YSP-5600 soundbar is equipped with the latest bluetooth technology, making wireless operation more convenient than ever. You can stream music from your yamaha soundbar to bluetooth headphones for private listening or to the bluetooth speakers.
Economic Design
The Yamaha YSP 5600 has even lower power consumption of less than 1.6 W in the standby power mode. In addition, the auto power standby function automatically turns the power off after a set period of time with no signal elapses.