Product features
The KEF Q750 - superior execution floorstanding speakers. Being the a transitional floorstander in KEF's Q Series, its shut box midrange cupboard configuration repeats sound with surprising with amazing lucidity, scale, and bass punch.Consolidating KEF's protected Uni-Q driver cluster innovation, the Q750 sports a 6.25" aluminum bass driver, two matching ABR drivers, and a 1" vented aluminum vault tweeter that conveys wonderful audiophile-grade execution. KEF's overhauled low-recurrence drivers consolidate new encompasses and back suspension for a strong bass reaction.
Including a superior cupboard plan, this floorstander is hung with a smooth stain finish to mix into any stylistic layout easily. The KEF Q750 can be utilized an independent sound system or part of a multi-channel encompass sound arrangement for bigger or medium estimated rooms. Being granted by Best Buy and AVTech Media for its unparalleled exhibition, the speaker is prepared to convey KEF's unbelievable sonic punch in your motion pictures, music or gaming meetings!
Profoundly heading sound by Uni-Q innovation
At the core of this floorstanding speaker are the Uni-Q driver exhibit. It puts the tweeter in the acoustic focus of the midrange cone. This brings a solitary point source nearer than any time in recent memory to a spatial acknowledgment that conveys nitty gritty and three-layered soundscape. The Uni-Q's super wide scattering is additionally further developed by KEF's 'tangerine' waveguide clubbed with an aluminum vault tweeter.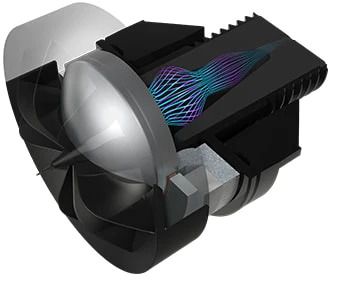 Worked on damped tweeter for clear high-recurrence reaction
Adding a Damped tweeter stacking tube in the KEF Q750 gives a delicate end of sound created from the rear of the tweeter. Moreover, this further develops lower high pitch execution emphatically for an unmistakable, fresh and lovely high-recurrence reaction.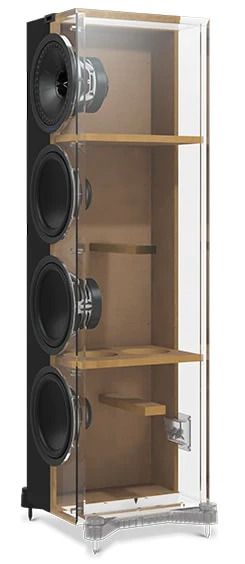 New bureau plan for a significant bass presentation
In the KEF Q750 floorstanding speaker, the Uni-Q driver is set in a fixed box inside the cupboard. The better shut box midrange bureau configuration decreases the heap on the Uni-Q midrange cone. This fundamentally increments speaker lucidity and detail while conveying cleaner, strong and a punchier bass reaction. Midrange lucidity is additionally improved by means of upgrades to the mid-bass driver that removes the requirement for a DC hindering capacitor in this way conveying a characteristic bass roll-off between the drivers.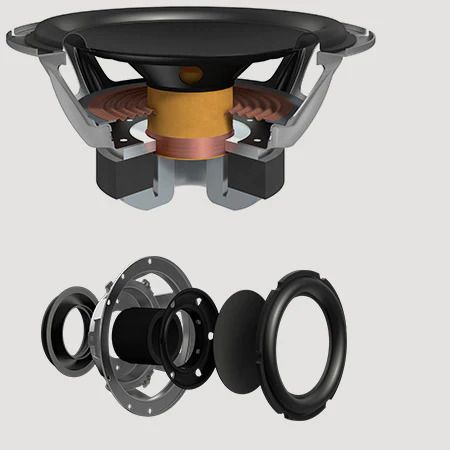 Beefier bass drivers overhauled from the beginning
The bass drivers consolidated in the KEF Q750 currently sport a bigger roll encompass and another bug suspension. This enables a cleaner bass reaction even at high volumes. Furthermore, another cone structure improves midrange lucidity and an upgraded Auxiliary Bass Radiators (ABRs) conveys an amazing bass presentation.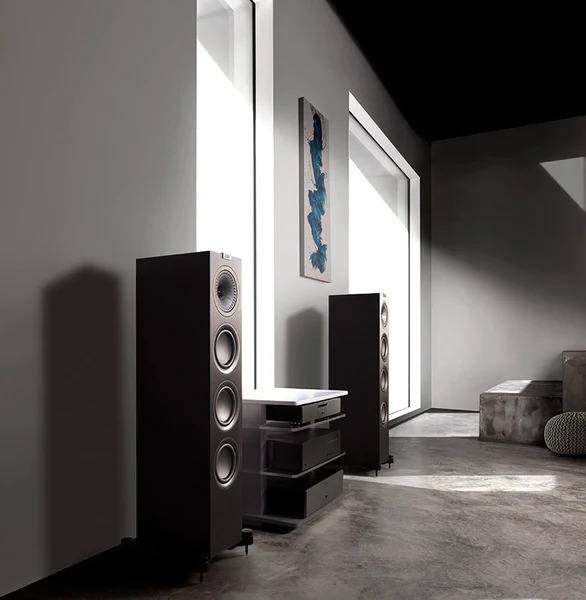 More grounded plinth included for upgraded soundness
Highlighting bolt-on plinths, the KEF Q750 floorstanding speaker offers phenomenal solidness when introduced. The plan loosens up the spikes to give the most significant level of steadiness conceivable from such a thin speaker. This diminishes twisting and bureau stays in place even while producing high decibel levels. The spikes are movable from above in this way saving huge time and bother during establishment