Portronics Sublime ii Por-137 Portable Wireless Bluetooth Speaker
Overview
The Portronics sublime 2 brings unique features of NFC(near field communications) so now,by just one touch you can connect your devices with ease.This stylish,Sturdy and portable Bluetooth speaker carries the glossy and advance design, have various connectivity mode, longer battery life, in-built FM option and many more.This portronics sublime made up of high-quality plastic, cover up by silicon rubber.
Product features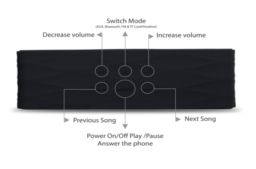 Simple Switch Mode
Portronics sublime 2 has a simple switch mode for AUX, Bluetooth, FM, Pendrive, MicroSD addition to these it has volume controls, songs switching options as well power on/off button under one finger.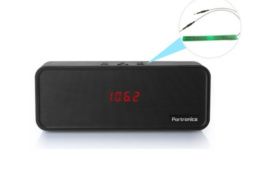 In-Build FM and Microphone
With portronics sublime ii, you are not bound with your own song play list. An In-build Fm without wired Antenna provides you for listening various song. With the Microphone option, you can use it during mobile voice calls for hands-free calling.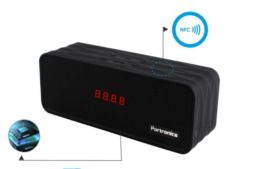 NFC feature
This Bluetooth speaker has Near Field Communication features, that enables two compatible devices to do short range communication rapidly. NFC feature provides 10 times faster connectivity than Bluetooth.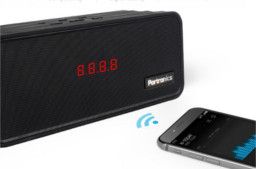 Simlified Pairing
Pairing up this portronics sublime 2 Bluetooth speaker does not involve any issues. Just 2 steps, switching on the speaker Bluetooth and pair it with compatible other devices having embedded Bluetooth service too. You can pair speaker from up to 9 meters distance.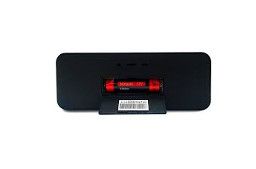 Charging and Longer battery Life
A pro-installed 2000 mAh rechargeable battery offers you 8 hours incredible playtime easily, after one time full charging. In addition, you can charge it with USB cables while listening audio sound continuously.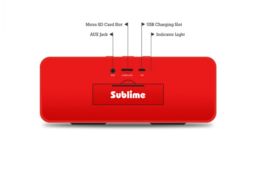 Connectivity
This speaker offers you various different connectivity solutions- OTG connectivity, USB 2.0/3.0 connectivity, Bluetooth connectivity, AUX and NFC connection. It comes with 3.5mm audio jack, that is compatible with almost every audio devices.