Product features
Wrapped up in a metallic body are 5000 old hindi songs, that you can hear in crystal clear sound on Saregama Carvaan, which come loaded with Harman Kardon sound.
Loaded with 5000 songs, assorted into 130+ stations, this is perfect for people who like old-school music. The stations are categories based on lyricists, actors, singers, music composers, specials. One can switch between stations by turning a jog-dial, allowing the listener to transition between the classics of Kishore Kumar and the evergreen hits of Mohd Rafi and the likes by simply turning a knob. Different stations also offer different genres of music, like sad, romance, ghazals, Bhakti, Gurbani, etc. in order to provide you the best musical experience. Ameen Sayani's famous Geetmaala countdown collection, spanning over 50 years, is also available in this portable digital audio device.
But it does not end here. This portable audio device also serves as a home radio, with the option of tuning into FM/AM. And when nothing else suits you, you can simply plug in your USB drive and enjoy your own music. It also lets you connect your phone or tablet to the device using Bluetooth or AUX in cable. Backed with a rechargeable battery that lasts for approximately 5 hours and 1 year doorstop warranty, retro look and heavy song collection, Carvaan is a must have for anyone who loves music.
Plethora of songs
With a collection of 5000 songs, sorted into 130+ stations for the ease of the listener, this makes for a must-have portable digital audio device for people who enjoy music. The stations are based on categories like lyrisicts, actors, singers, etc., in order for the users to easily find their favourite songs. All this, done by merely turning a jog dial.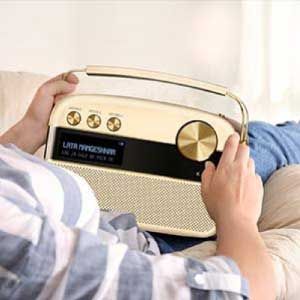 Music on the Go
Gone are the days when you had to change the batteries of your audio device again and again. Carvaan comes with a rechargeable battery that lasts you a good 5 hours, so that you enjoy music hassle-free. With its retro but stylish looks and light weight, it is very convenient for you to take your favourite music along with you.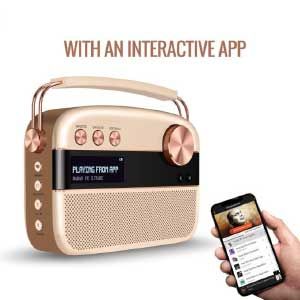 Carvaan has an App now
Because of huge customer demands, carvaan now comes with an app for both it's iOS and Android users. This companion App lets you choose from a plethora of songs. You can also create your own playlists of the songs that you love the most, in order have a fully personalized experience with the device.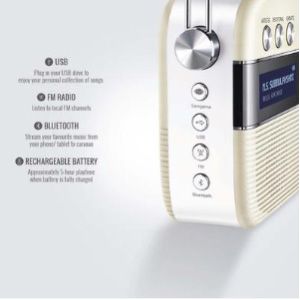 Bluetooth connectivity
You can also enjoy your favorite music hassle free by connecting your phone or tablet to the device using Bluetooth. It is an easy process and once connected, you can play your own songs on it and drown yourself in melody.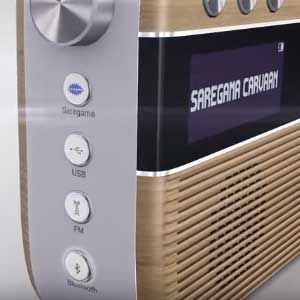 Fm/Am Radio
This portable device also doubles up as an FM/AM radio as and when required. If you don't want to listen to the retro hits, no worries. You can always switch over to the radio and enjoy the latest hits or current affairs on the radio.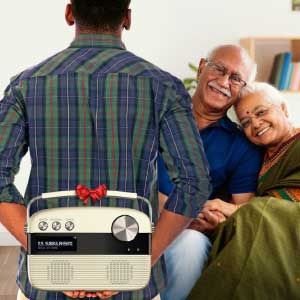 Perfect gift for Loved ones
The gift of music is one of the best gifts that you can give to your loved ones. And what better present to show that you care other than the Carvaan Premium portable digital speakers. Create playlists for your special ones or let them choose their favorite song on their own, so that they are reminded of your love every time they use this incredible device.