Product features
The Fuze 100 comes with a high quality sound and portability which makes it easy to carry. The deep bass and high clarity makes the speaker an advanced one. It is hard, durable and has the waterproof design which protects it from accidental spills. The Fuze 100 also comes with a long lasting battery that lasts up to 9 hours. Now make your music experience seamless without having to worry about charging. 
Trusted with JBL's reliability, the Fuze 100 wireless speaker also has the Dual EQ feature which lets you to get a high quality bass. It also connects to another bluetooth speaker for a heart thumping experience of bass. Now make your music experience event more exciting with the new Fuze 100 as it supports Google's assistant. Command your favourite song and let the speaker do the rest with it's Google voice assistant support.
High Bass
Now get high bass with the Fuze 100 in every song you play. The speaker's bass effect rings the ear and provides amazing audio experience.
Dual Equalizer
This feature gives an additional benefit to your music experience. Along with deep bass the dual equalizer enhances your music experience with high clarity sound.
Long Lasting Battery
The Fuze 100 comes with a powerful battery that lasts up to 9 hours. Enjoy your music without worrying about charging it often. Now experience the best of wireless connectivity.
Resistant to Water
Your speaker is always protected from accidental spills especially when you are on a party. The IPX7 waterproof technology keeps your speaker waterproof from all sorts of liquid spills.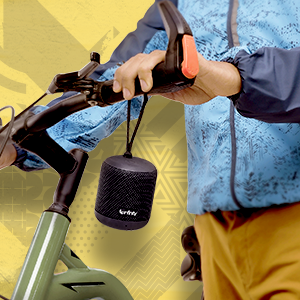 Portable to Take Anywhere
This light weight speaker ensures portability and is easy to carry anywhere. Now don't miss out the fun when you are travelling or in a pool party.
Google Voice Assistant
Push the power button twice and get the unlimited help from Google Assistant. Play your favourite music or get information, all in just one speaker.